Thank you for consigning with Asbury's Giggles & Grace Consignment Sale.  We are thrilled to have you join us for this wonderful sale!  Whether you are a first time consignor with us or veteran consignor, we have listed the procedures so you will know what to expect.  If you have any questions, email the receiving committee at receiving@asburygigglesandgrace.com.
Please note, we only have youth volunteers available Wednesday night until 9pm if you need assistance with receiving.
Receiving Dates
Wednesday, September 5, 5:30pm – 9:30pm
Thursday, September 6, 9:30am -11:30am
Click here for receiving guidelines
Create Tags
Giggles and Grace tags must be used or the items will not be accepted.  Tags must be created using this link – Tag Creation
All items should be priced at $3.oo or above in whole dollar increments.  Group items of lesser value together.  Rule of thumb for pricing – 1/3 or original price for items in excellent condition.  1/4 of original price for items in good condition.
Fill in tags COMPLETELY – double check all information and price!  You will not be able to change the tags once you drop them off at Receiving.
Make sure that you choose if you want to discount each item on the last day of the sale.  Your tag will print saying "Discount: Yes" or "Discount" No."
When creating tags for items that you wish to have returned, make sure that you mark them Donate: No. For items that you wish to donate, please check Donate: Yes and they will print with a large open hand to the left of the price on the tag.  Items that are not marked in this way will be donated at the end of the sale.
NO TAGS from any previous sales may be used in the current sale. Also, DO NOT delete any tags in the system for items you plan to sell. If you delete an item you plan to sell, it will not show up in inventory and we can NOT sell it! Do NOT delete as you go!
Click here for Tag Guidelines and Instructions
Tagging Tips
Clothing Items
Use wire hangers only. Hangers face left to resemble a question mark. (see illustration below)
Pin tags with medium sized safety pins on the right side of the garment. (see illustration below)
Swaddle blankets and sleep sacks should be placed on hangers.
For extra protection against a lost tag you may place masking tape with your seller number inside each garment and on the outside of all other items.
Non-Clothing Items
Do not tape over the printed barcode on the tags. Doing so could result in your item not scanning correctly.
Shoes: Place each pair of shoes in a zip-top bag. All bags should be taped closed with clear packing tape with the tag OUTSIDE. Do not include boxes in the bag. Only US size accepted. (European sizes should be converted to US size.)
Toys: If a toy has many parts, you can place small parts (i.e. kitchen accessories) in zip-top bags then attach the bag to the main part (i.e. kitchen set) with clear packing tape. Make sure you indicate your seller number on the bag of accessories incase of separation from the main item.
Books: Place books in zip-top bags. All bags should be taped closed with clear packing tape with the tag OUTSIDE.
Games and Puzzles: Boxes should be sealed with clear packing tape with the tag placed on the OUTSIDE. For puzzles without a box, wrap the puzzle with Saran wrap then secure with packing tape.
Combined pieces or sets: Bundle items together and use only ONE tag for the entire set.
Car Seats/Boosters: Manufacturer date must be clearly written on the tag.
HANGING SINGLE PANTS: Place a piece of masking tape around the hanger where you would usually pin, then poke the safety pin through the tape as you pin the pants to the hanger. Now your pants won't slip and slide! Items that are hung well sell better!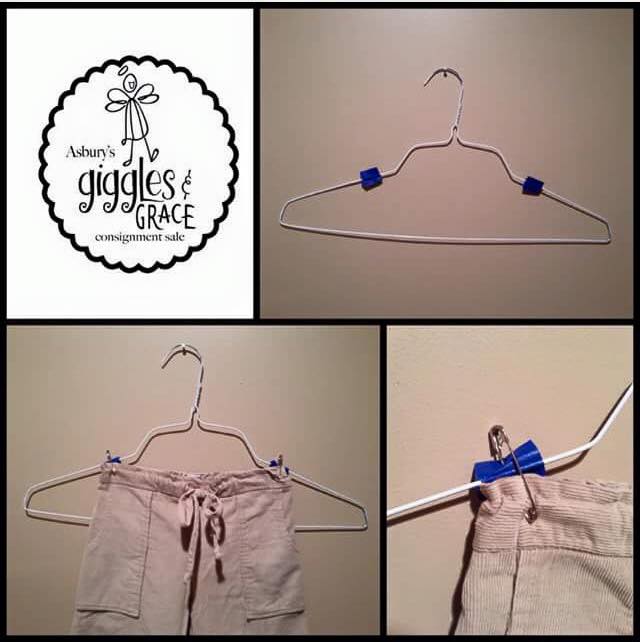 Printing Tags
Consignors please ensure that you have the proper tags on your items. Random tags will be scanned during receiving for each consignor. Any items that do not scan will be returned to the consignor and given the opportunity to correct and re-receive.  Thank you for your cooperation.
The tags must be the proper size of roughly 4.75" high by 2.5" inches wide. If your tags print smaller, please email receiving@asburygigglesandgrace.com for help.
All tags MUST be on WHITE CARD STOCK
Print tags with "Fine" or "high" resolution black print option.
Receiving Procedures
Be sure to read the guidelines on acceptable items, creating tags, and printing tags before bringing your items to receiving. The Giggles and Grace Receiving Team reserves the right to return any items back to the consignor that do not meet these guidelines.
Clothing Items MUST be sorted by size and gender. Items not sorted will be returned to consignor for sorting.
Check-in at the Receiving Table. Turn in your Consignor Agreement Form and receive your Seller ID number on a color-coded card. The line will be formed according to your color-coded card and appointment time.
Once we call your color-coded time, we will take your items and color-coded Seller ID card inside the CLC for inspection. You may wait for us to look through your items or use the Drop-and-GO EXPRESS (see below for more information about this option)
If you are waiting, we will come back into the hallway once we have finished inspecting your items and call your Seller ID number. We will let you know if we accepted all of your items for the sale or if there is anything that we did not accept for some reason. You may take your unaccepted items back home.
---
General Sale Information
Click here for information regarding guidelines
Consignment Sale Important Info
All items MUST have tags created using the above 'Tag Creation' link
NO TAGS from any previous sales may be used in the upcoming sale. Also, DO NOT delete any tags in the system for items you plan to sell. If you delete an item you plan to sell, it will not show up in inventory and we can NOT sell it! Do NOT delete as you go!
NEW! If you are consigning non-clothing items (toys, books, shoes, etc.), you must bring a clear 14- 16 gallon plastic tub to receiving.
Pickup Times are Saturday, 3:00PM – 4:30PM